Hello FFBC Team! We are now announcing a new tour we're hosting for
Siren's Song
, third book in the Storm Siren Trilogy, is being released on March 1st 2016 by Thomas Nelson / HarperCollins.
The tour will run from
March 21st to
March
27th
and there will be available the following types of posts:
Review (Limited spots)
Interview (Only 2 Available)
Guest Post (Only 2 Available)
Playlist (Blogger's Choice)
Dream Cast (Blogger's Choice)
Favorite Quotes (Blogger's Choice)
Promotional Post
Remember that March 21st is reserved for the Welcome Post, so do not pick March 21st in the sign-up form.
Reviewers will receive a digital copy of the book via NetGalley, so make sure you have an account before filling out the form.
As always, there will be a tour giveaway provided by the author. Details to come soon!
IMPORTANT NOTE: Signing up for the tour does not guarantee you will be selected. We will reach out to all hosts that have been chosen once the sign-ups have closed and the tour schedule has been published.
Siren's Song
(The Storm Siren Trilogy #3)
by
Mary Weber
Publisher: Thomas Nelson / HarperCollins
Release Date: March 1st 2016
Genre: Young Adult, Fantasy, Magic, Fiction, Paranormal
Synopsis:
Nym and Draewulf prepare to face off in a battle destined to destroy more lives than it saves.
With the loss of Tulla still fresh in mind, Rasha's fate unknown, and Lord Myles taken over by the dark ability, Nym and the few Bron soldiers rush to warn Cashlin's queen. Only to discover it may already be too late for the monarch and her eerie kingdom. As the Luminescents are sifting through Nym's past memories and the queen is reading into her future, Nym is given a choice of how to defeat Draewulf, but the cost may be more than she can bear. And even then there are no guarantees.
With that reality burrowing into her bones—along with the guilt of the lives she will sacrifice—Nym returns to her homeland of Faelen to raise an army of peasants through promises of freedom. But when the few friends she has left, along with the world and citizens she loves, are staring down the face of a monster and his undead army, will Nym summon every element her blood is capable of controlling . . . or surrender to a different strength—one of sacrifice?
Because in the end, death may be more merciful for them all.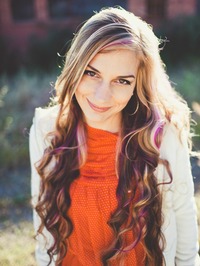 Mary Weber is a ridiculously uncoordinated girl plotting to take over make-believe worlds through books, handstands, and imaginary throwing knives. In her spare time, she feeds unicorns, sings 80's hairband songs to her three muggle children, and ogles her husband who looks strikingly like Wolverine. They live in California, which is perfect for stalking L.A. bands, Joss Whedon, and the ocean. Her debut YA fantasy novel,
STORM SIREN
, is available now in bookstores and online, and
SIREN'S FURY
(book 2 in the trilogy) will be out June, 2015 from TN HarperCollins.