Hello FFBC Team! We are now announcing a new tour we're hosting for
Love, Lucas
, releasing on May 5th by Sky Pony Press.
The tour will run from
April 27th to May 3rd
and there will be available the following types of posts:
Review (Limited spots)
Interviews (Only 2 Available)
Guest Post (Only 2 Available)
Official Book Playlist
Official Dream Cast
Playlist (Blogger's Choice)
Dreamcast (Blogger's Choice)
Favorite Quotes (Blogger's Choice)
Promo Only
Remember that April 27th is reserved for the Welcome Post, so do not pick April 27th in the sign-up form.
Reviewers will receive a digital copy of the book via Edelweiss, so make sure you have an account before filling out the form. No physical copies will be available for this tour.
As always, there will be a tour giveaway provided by the author. Details to come soon!
IMPORTANT NOTE: Signing up for the tour does not guarantee you will be selected. We will reach out to all hosts that have been chosen once the sign-ups have closed.
Love, Lucas
by
Chantele Sedgwick
Publisher: Sky Pony Press
Release Date: May 5th 2015
Synopsis:
When Oakley Nelson loses her brother, Lucas, to cancer, she thinks she'll never recover. Between her parents' arguing and the battle she's fighting with depression, she feels nothing inside but a hollow emptiness. When Mom suggests they spend the summer in California with Aunt Jo, Oakley isn't sure that a change of scenery will alter anything, but she's willing to give it a try.
In California, Oakley discovers a sort of safety and freedom in Aunt Jo's beach house. Once they're settled, Mom hands her a notebook full of letters addressed to her—from Lucas. As Oakley reads one each day, she realizes how much he loved her, and each letter challenges her to be better and to continue to enjoy her life. He wants her to move on.
If only it were that easy.
But then a surfer named Carson comes into her life, and Oakley is blindsided. He makes her feel again. As she lets him in, she is surprised by how much she cares for him, and things get complicated. How can she fall in love and be happy when Lucas never got the chance to do those very same things?
With her brother's dying words as guidance, Oakley must learn to listen to and trust herself again. She soon realizes that second chances are ways to learn from the past, and you don't always have to leave the past behind to find happiness in the future.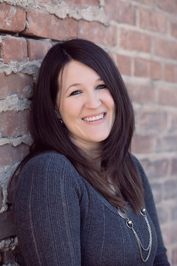 Chantele Sedgwick is a YA author, harpist, wife to one and stay-at-home mom to four. She loves happy endings, Kit Kats and judging by her book shelves, buys way too many books.
Continue Reading