Hello FFBC team!! We are announcing a new tour we're hosting for
Hunting Prince Dracula
that is being released September 19, 2017.
The tour will run from
September 20th to
September
26th
and there will be available the following types of posts:
Review (Limited spots)
This or That Interview (Only 1 Spot Available)
Favorite Quotes (Blogger's Choice)
Creative Option
Promotional Post (Provided by Publisher)
Remember that September 20th is reserved for the Welcome Post, so do not pick September 5th in the sign-up form.
Reviewers can receive a digital copy of the book via NetGalley or a physical copy (US only). There will also be copies of Stalking Jack the Ripper available via Netgalley, so make sure you have an account on that website before signing up to this tour without having read the first book in the series. Also, be aware that priority will be given to those who have read Stalking Jack the Ripper.


As always, there will be a tour giveaway provided by thepublisher. Details to come soon!
IMPORTANT NOTE:
Signing up for the tour does not guarantee you will be selected. We will reach out to all hosts that have been chosen once the sign-ups have closed and the tour schedule has been published.
Hunting Prince Dracula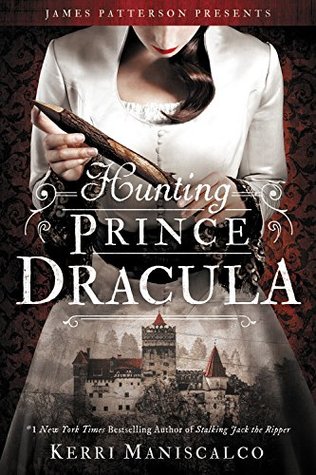 (Stalking Jack the Ripper #2)
by
Kerri Maniscalso
Publisher: Little, Brown & Co.
Release Date: September 19, 2017
Genre: Young Adult, Historical Fiction, Mystery, Thriller
Synopsis: In this hotly anticipated sequel to the haunting #1 bestseller Stalking Jack the Ripper, bizarre murders are discovered in the castle of Prince Vlad the Impaler, otherwise known as Dracula. Could it be a copycat killer...or has the depraved prince been brought back to life?

Following the grief and horror of her discovery of Jack the Ripper's true identity, Audrey Rose Wadsworth has no choice but to flee London and its memories. Together with the arrogant yet charming Thomas Cresswell, she journeys to the dark heart of Romania, home to one of Europe's best schools of forensic medicine...and to another notorious killer, Vlad the Impaler, whose thirst for blood became legend.

But her life's dream is soon tainted by blood-soaked discoveries in the halls of the school's forbidding castle, and Audrey Rose is compelled to investigate the strangely familiar murders. What she finds brings all her terrifying fears to life once again.
Kerri Maniscalco grew up in a semi-haunted house outside NYC where her fascination with gothic settings began. In her spare time she reads everything she can get her hands on, cooks all kinds of food with her family and friends, and drinks entirely too much tea while discussing life's finer points with her cats.

Her first novel in this series, Stalking Jack the Ripper, debuted at #1 on the New York Times bestseller list. It incorporates her love of forensic science and unsolved history.